Gelbe Seiten Adressen exportieren
Leecher for German Yellow Pages
This PHP Tool parse the german Yellow Pages and grab all found address data etc. to a CSV file, so you can get up to 2.5 million addresses in one data file.

The next buyer of this article who can give a 5 stars rating will get a free script by mail from me — Thanks for your support ;-)
WHAT'S NEW?
This Script is totaly new build up from scratch!
Hand picked — New Features take a look at the DEMO http://php.bplaced.net/index.php
LIKE WHAT YOU SEE?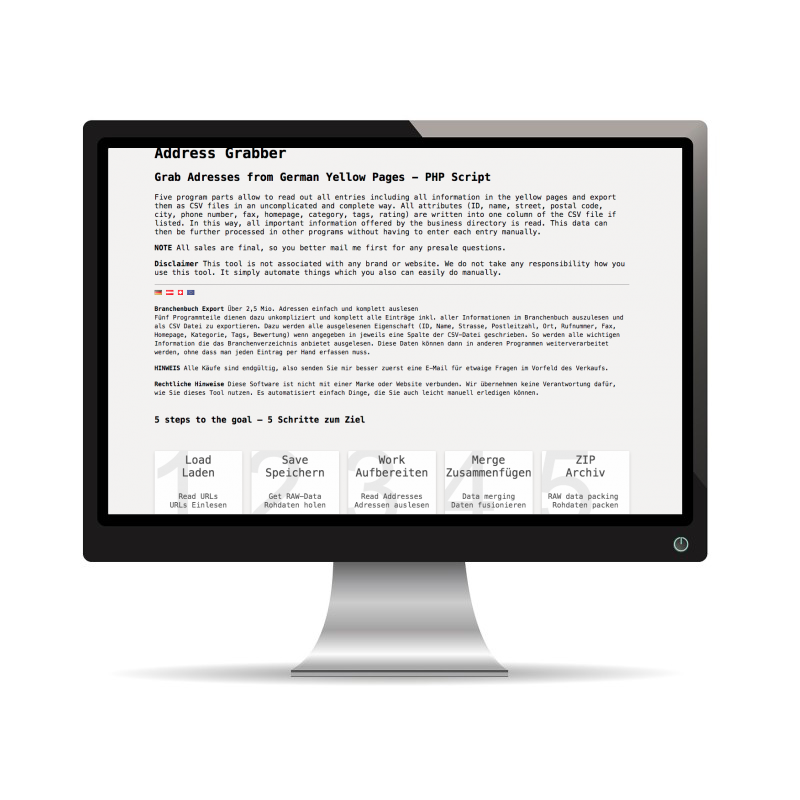 WHAT IS IT?
Address Grabber
Grab Addresses from German Yellow Pages - PHP Script
Five program parts allow to read out all entries including all information in the yellow pages and export them as CSV files in an uncomplicated and complete way. All attributes (ID, name, street, postal code, city, phone number, fax, homepage, category, tags, rating) are written into one column of the CSV file if listed. In this way, all important information offered by the business directory is read. This data can then be further processed in other programs without having to enter each entry manually.
NOTE All sales are final, so you better mail me first for any presale questions.
Disclaimer This tool is not associated with any brand or website. We do not take any responsibility how you use this tool. It simply automate things which you also can easily do manually.
---
Branchenbuch Export Über 2,5 Mio. Adressen einfach und komplett auslesen
Fünf Programmteile dienen dazu unkompliziert und komplett alle Einträge inkl. aller Informationen im Branchenbuch auszulesen und als CSV Datei zu exportieren. Dazu werden alle ausgelesenen Eigenschaft (ID, Name, Strasse, Postleitzahl, Ort, Rufnummer, Fax, Homepage, Kategorie, Tags, Bewertung) wenn angegeben in jeweils eine Spalte der CSV-Datei geschrieben. So werden alle wichtigen Information die das Branchenverzeichnis anbietet ausgelesen. Diese Daten können dann in anderen Programmen weiterverarbeitet werden, ohne dass man jeden Eintrag per Hand erfassen muss.
HINWEIS Alle Käufe sind endgültig, also senden Sie mir besser zuerst eine E-Mail für etwaige Fragen im Vorfeld des Verkaufs.
Rechtliche Hinweise  Diese Software ist nicht mit einer Marke oder Website verbunden. Wir übernehmen keine Verantwortung dafür, wie Sie dieses Tool nutzen. Es automatisiert einfach Dinge, die Sie auch leicht manuell erledigen können.
KEY-FEATURES
Modern: Responsive
Comes in some handy PHP files
Manual file is included in Download
... and many more! Just try our Demo to view all Features
and view full Release Notes at the End of this Page
WHAT MY AMAZING CUSTOMERS THINK

SIMPLE SETUP
Unzip the Download
Copy all files to your htdocs or your sub-dir
Put write rights to the sub directories
That's it… You are ready to start!!
REQUIREMENTS
PHP 5.4.7 or > and that is all you need!
HOSTING
This script does not make any use of special functions, so it will work in nearly every server environment. In case of any problems with specific hostings let me know immediately!
SUPPORT
If you run into problems please give me not a bad rate, please take a look at the documentation of the script. If you need more help, be free to contact me via the support tab. I will do everything so that my product deserves a 5 star rating! All updates are included. Remember that the script will be updated regularly.

Thank you very much.
Best Regards, adilbo
DEVELOPER
Do you want to customize my script as you want? Just purchase the Extended License and shoot me a message from my profile page to let me know how you're using it. Thanks!
HINT
You need software adaptations or help? Contact me, I work as a freelancer!
CHANGELOG

Version 1.0 (2019)
    NEW -  Release of this Script

Appreciated on March 5th, 2021