FLATCMS – The most simple cms there is
Turn any existing static website into a CMS content management system in a few minutes. Edit, upload, resize and manage images and files.
PHP 8 READY!
Features
FLATCMS can be used on a desktop, tablet or smartphone. Works with language files ( currently available English, Spanish, Italian, German and Dutch ). Create in minutes a cms for a client with static html files.
Technical
Uses Bootstrap, Optimal security (with brute force protection), xHTML valid sourcecode and the latest TinyMCE 5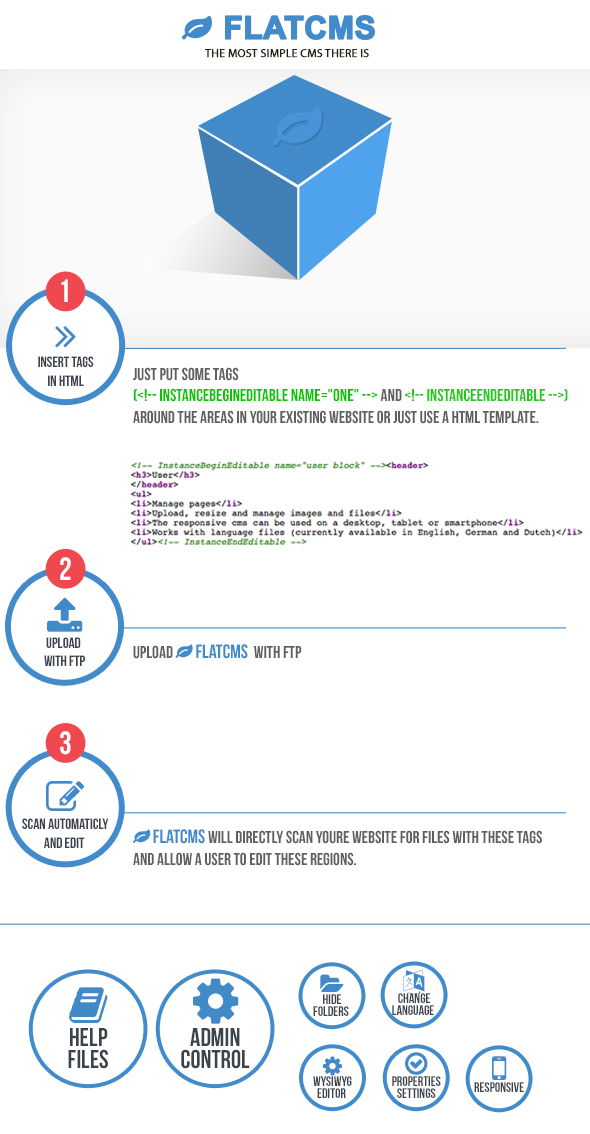 Explanation
FLATCMS is one of the most simple Content Management System (CMS) there is. With FLATCMS the owner of a website can easily edit the content. This doesn't require any knowlegde about websites or HTML.
You can install FLATCMS in any existing website or just use a html template. You provide the HTML-files with some editable region tags. FLATCMS will then know which parts it's allowed to edit. It doesn't matter if you made the HTML-files yourself or if they're made by software like Dreamweaver, Frontpage, Studio Webdesign, WebCreator etc.
As an Administrator you have your own login code. This allows you to easily change the configuration, like hiding certain folders, switch on/off buttons for various properties settings in the (WYSIWYG) Editor or changing the language and set the login code for a user.
Demo
Go to https://www.flatcms.nl to look at the demo (admin and explanations)
Installation
It's really easy to install FLATCMS.
Just put some tags


<!-- InstanceBeginEditable name="one" --> and <!-- InstanceEndEditable -->

around the text areas in your website, so a user can edit these text parts.
Upload the html files and the admin dir to your server.
Go to http://www.yoursite.com/admin/ and an installation wizzard will be shown.
Fill in the required fields like username and pass and you are ready to go.
FLATCMS will directly scan you website for files with these tags and allow a user to edit these regions.
Take a look at the install manual (included in the installation wizzard)
Demo
You can login here to see a demo of FLATCMS. Because this is a demo none of the changes will be saved. For the admin login you can use (name) admin – (pass) 1 or as user (name) user – (pass) 1
Support
I will NOT give support to free hosting services or a local host setup since I cannot solve then any path problems if they occur.
Appreciated on April 7th, 2022